Our company proudly provides turn-key technology solutions for today's healthcare community. We offer business-critical software solutions that are focused on lowering cost of operations, increasing patient satisfaction, and revenue for medium to large healthcare institutions. Our services include consulting, deployment of medical practice electronic infrastructure and training. Our system analysts and engineers bring extensive experience to the rapidly advancing areas of healthcare technology, design and development.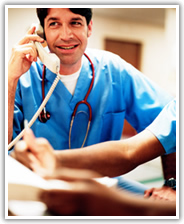 In today's fast and aggressive business environment, technology is of the essence. Our experts can help cut through the haze of complex technology, providing solutions that are targeted to your needs. The company was founded in the belief that ingenuity combined with technical expertise and quality customer service would result in a winning formula for the customer, the company's employees and the owners.
Our approach is to develop, deliver, and support integrated technology solutions for the healthcare community. We recognize the need for comprehensive, interactive and cost effective solutions that are customized to address your individual health care specialty environment. Our clients commonly referred to us as their complete total solutions provider.
Our company embarked in the development of eDocHealth document management system after noticing the frustration of many customers with their current software systems, and high cost of operations. From the start our focus was on developing a simple, cost effective, yet powerful solution that would eliminate paper trail while significantly increasing operations efficiency, enhancing patient care and revenue.

We specialize in personal customer service and have references to prove it! We support various healthcare businesses: Medical Billing Clearing-houses, hospitals, medical practices such as but not limited to: OBGYN, Orthopedics, Oncology, Internal Medicine, Orthodontics, Chiropractic, Dental, Neurology, Family Medicine, Dental, Ophthalmology, Physical Therapy etc.